Recycling Resources with No Need for Landfill Sites
Operating our Smelting and Cement Recycling System
As a result of an increasing volume and variety of waste products, Japan is facing issues such as a growing percentage of difficult-to-treat materials, and pressure on landfill sites. Recovering and recycling waste without producing secondary waste has therefore become a top priority.
As one of very few companies in the world that has both nonferrous smelting and cement plants, we run a combined smelting and cement recycling system as part of our environmental recycling operations here at the Mitsubishi Materials Group, in an effort to help establish a recycling-oriented society. Our smelting plants use byproducts generated by our cement plants as raw materials, and vice versa, enabling us to recycle waste without any need for landfill sites. One of the byproducts we generate at our smelting plants is copper slag, which is increasingly being used as an aggregate for heavyweight and other concretes, as part of construction work to better prepare Japan for tsunamis and other natural disasters.
Making the most of this system, which enables us to process E-Scrap, used home appliances, scrap vehicles, batteries and various other types of waste, we have also started to recycle difficult-to-treat waste such as rubble from disaster areas and waste plasterboard. We use unique technologies at our cement plants in particular to recycle waste plasterboard into raw materials for cement, and are working to reinforce our processing capabilities even further.
Smelter & RefineryRecycling resources from urban mines
The Mitsubishi Process
Our unique Mitsubishi Continuous Copper Smelting and Converting Process (Mitsubishi Process) is a highly efficient copper manufacturing process that has exceptionally low environmental impact. We put copper concentrate through a series of three connected furnaces connected by pipes to produce blister copper (98.5% purity). The required facilities are compact and also help to save energy and cut costs.
Cement plantsTaking in, decontaminating and stabilizing Cement plants difficult-to-treat waste from other industries
High Temperature Burning Process
Raw materials (including wastes and byproducts) are prepared during the raw material grinding process and then sintered at high temperatures to produce a hydraulic mineral during the burning process. Once the raw mixture has reached the maximum temperature (1,450ºC) and a series of chemical reactions are completed, it is quickly cooled into an intermediate product called clinker.
* MFC: Mitsubishi fluidized calciner, developed exclusively by Mitsubishi Materials for the purpose of facilitating decarbonation reactions in limestone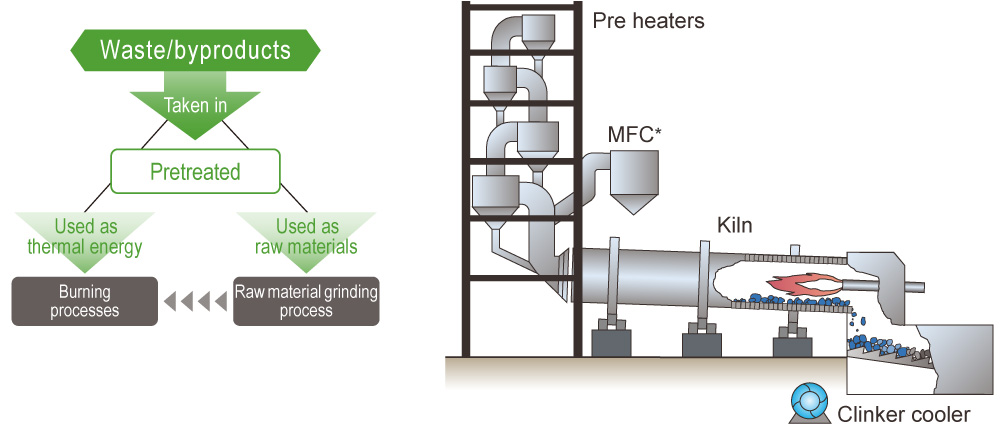 [Key features of waste treatment at our cement plants]
Capacity to treat large volumes of waste
Detoxification of waste products
No secondary waste (extending life span of landfill sites)
Home appliance recycling plantsUsed home appliances are disassembled and almost all of the recovered items are supplied as materials.
Reduction in environmental impact due to recycling home appliances
(LCA analysis for FY2019)
If recycling home appliances, so that resources are recovered from used appliances and reused as new materials
Effect
Total
Compared to sending used appliances to landfill and manufacturing new materials from natural resources
Reduction in CO2 emissions
137,000 tons
Reduction in consumption of natural resources
146,000 tons
Reduction in energy consumption
66,000 tons
Reduction in waste sent to landfill
123,000 tons
The above table does not take into account the impact of recovering fluorocarbons*. Expressed in terms of CO2 emissions, recovering approximately 571 tons of fluorocarbons would equate to a reduction of approximately 1,400,000 tons.
* Fluorocarbons refrigerants used in air conditionings, refrigerators and washing machines, and fluorocarbons insulation materials used in refrigerators