Managing Abandoned Mine
Purpose of activities
Activities during fiscal 2022
Self-
assessment
Targets/plans for activities from fiscal 2023 onwards

Ongoing training of engineers managing abandoned mines
Upgrading aging facilities (continued)
Tailings dam reinforcement work (continued)

A

Ongoing training of engineers managing abandoned mines
Upgrading aging facilities (continued)
Tailings dam reinforcement work (continued)
Self-assessment grades A: Target achieved B: Target mostly achieved C: Target not achieved
Managing Abandoned Mines
We are a company with its origins in the mining industry. The Mitsubishi Materials Group owns a wide range of mines around Japan, including limestone, coal and nonferrous metal mines, such as copper, lead and zinc mines. Operations at all of our non-ferrous metal mines have now been suspended or discontinued. Currently, we are managing 21 abandoned mines in 15 locations. We have continued to implement the following controls and management programs for our abandoned mines on a long-term basis, pursuant to Article 5 of our Code of Conduct, which states, "[Environmental Management] We will work to manage our environmental impact and promote decarbonization, make efficient use of natural resources, and accelerate recycling."
Management of tailings dam (sites used to store rubble from mining minerals, slag and sediment from mine drainage treatment).
Maintenance of excavated mine drift and drainage routes; implementation of safety measures at disused mine mouths and subsidence sites.
Treatment of acidic drainage containing heavy metals from the above sites.
We continue to preserve and maintain sections of mine drift in some abandoned mines as cultural heritage sites or tourist facilities to exhibit their former conditions and preserve historical mining technologies for future generations.
Abandoned Mitsubishi Materials (non-ferrous) Mines
Overview of Acid Mine Drainage Treatment at Abandoned Mines
Broadly speaking, acid mine drainage can be generated in two ways. There is the acidic water in the pits (mine water) containing heavy metals, generated through contact between oxidized minerals and rainwater and groundwater, which can fill the underground pits and mining cavities formed in mineralized belts due to mining operations. Then there is the permeated water (wastewater) generated when small amounts of heavy metals, which are contained in slag and other substances in the tailings dams, come into contact with rainwater and surface water. The acid mine drainage goes to processing plants, where it undergoes neutralization and the removal of heavy metals. The water is then discharged into rivers according to wastewater standards.
Major Management Tasks for Abandoned Mines
The Group controls acid mine drainage treatment, tailings dams, mine drifts and entrance drifts at the abandoned mines under its management. Acid mine drainage treatment involves the appropriate processing. Tailings dam control involves preventing stored slag and sediment from leaking out in case of dam body collapse. Mine drift and entrance drift control involves inspections to maintain waterways for acid mine drainage and sealing entrances to prevent injuries due to third-party trespassing and mine drift collapse. In particular, acid mine drainage control is carried out around the clock every day of the year.
Acid mine drainage treatment facilities (Yatani Mine)
Tailings dam management (Ikuno Mine)
Digitalization of Management Tasks for Abandoned Mines
We are pushing forward with the digitalization of management tasks for abandoned mines to improve the management and efficiency of the tasks.
Operational data is collected automatically and centrally managed as digital data. The use of this digital data enables the remote management of operations at water treatment and other facilities.
We have improved management by creating a system for the early detection of abnormalities, including the visualization of operational data using digital data (such as the creation of graphs showing change over time) and remote alarms that are triggered when an abnormality is detected.
We use smart devices to inspect and record water treatment facilities and tailings dams and thus centrally manage as digital data. We ensure the efficiency of the tasks by, for example, using the data to automatically create reports.
Visualization of operational data (displaying data trends)
Recording inspection results using smartphone (digitalization of inspection data)
Facility Upgrading and Environmental Countermeasures for Abandoned Mines
Since 2015, our Group has been implementing responses to deteriorating natural disasters and other risks by conducting protective construction to guard against contamination and other threats, reinforcing tailing dams to prevent uncontrolled release of slag and sediment in the event of major earthquakes, reducing wastewater at the source and upgrading aging facilities and by fiscal 2019, we had completed appropriating an environmental countermeasure reserve for work expenses.
Tailings Dam Reinforcement
Drawing on lessons learned from the leakage of slag and sediment from tailings dams managed by other companies during the Great East Japan Earthquake, in November 2012, the Ministry of Economy, Trade, and Industry revised its technical guidelines on aseismic performance. Based on this, we evaluated the stability of the tailings dams at abandoned mines managed by the Group, which revealed that measures needed to be implemented at 10 locations. Thus, we started construction work to design and implement stability measures at the locations in fiscal 2016.
Reinforcement work by soil stabilization at the Yatani Mine Tailings Dam (completion)
Wastewater Reduction at the Source
In an effort to decrease the burden and risks of acid mine drainage due to environmental changes (large-scale typhoons and guerrilla rainstorms) in recent years, we are proceeding with source countermeasure construction and updating aging equipment. One way of the source countermeasures is to cover exposed surfaces of mineralized belts on a large scale, such as by using the latest technology (which enables greening that was previously difficult due to acidic rocks). This prevents rainwater from coming into direct contact with the mineralized belts, which is expected to reduce the amount of water to be processed as well as the burden of contamination.
Contamination containment work(Komagi Mine)
Upgraded pit wastewater treatment facility (Komagi Mine)
Human Resources Development
All the Group's non-ferrous metal mines are abandoned and some time has passed since the mines were closed down. As such, we have seen a decrease in relevant human resources as engineers with skills in non-ferrous metal mining have either retired or reached advanced age. In order to continue to sustainably manage abandoned mines, we are actively training young engineers with little mining experience, and setting up a variety of educational programs for engineers (including programs for acquiring skills for the management of abandoned mines and for obtaining relevant qualifications). In this way, we strive to transfer mine management skills.
Engineer training (mine tunnel management)
Engineer training (basic training)
Joint Industry-academic Activities
In fiscal 2018, we opened an endowed laboratory in the field of resources environment and remediation at Hokkaido University. In addition to giving lectures related to the protection of the mining environment, this laboratory engages in a variety of research projects and activities.
We also work on initiatives including the development of new environmental conservation technologies in cooperation with and guided by experts from other universities and research institutions. We have widely publicized the achievements of these R&D efforts by presenting them in research papers, at symposiums and at other events.
Greening of former mining sites (University of Tsukuba, Hokkaido University): We are researching the heavy-metal resistance that endophytic fungi can provide to plants in former mining sites, in our efforts to facilitate the greening of former mining sites, where it has been difficult for plants to take root.
Water treatment technology using a fungus (Akita Prefectural University): We are studying a new mine drainage treatment technology using a manganese-oxidizing fungus that can remove manganese in the neutral range.
Examination of a method to evaluate ecological effects (National Institute of Advanced Industrial Science and Technology): We are examining a method of evaluating ecological effects of inflow of mine drainage on rivers from the viewpoint of effects on aquatic organisms by using field surveys.
Development of a passive treatment technology: We are developing a mine drainage treatment technology that makes use of natural purification for the absorption removal of heavy metals using mulch.
Development of a remote monitoring technology (National Institute of Advanced Industrial Science and Technology): We are developing a super power-saving remote monitoring system with radio wave directivity, a technology that will enable the monitoring of locations in mining areas without a power grid or communications network.
A plant tour given to students from an endowed laboratory (site tour)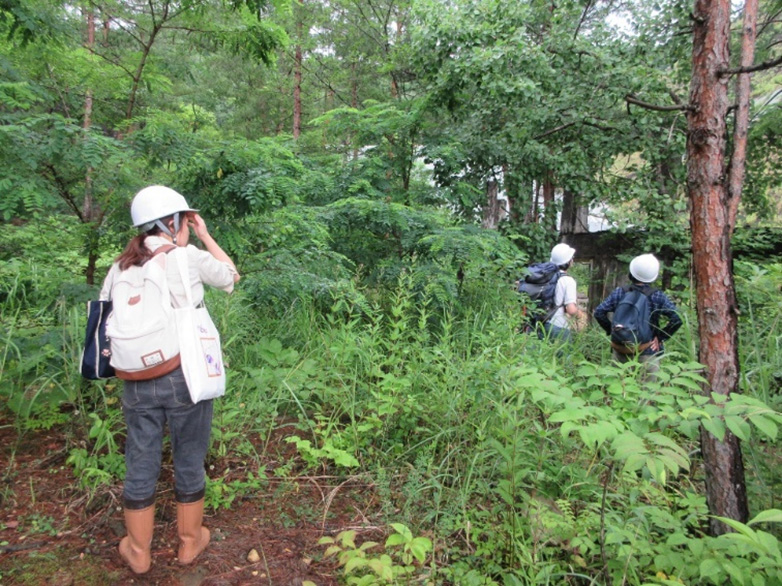 A greening survey at a former mining site
A river ecological survey (collection of benthos)
Field test of passive treatment
Communication with Local Residents
To promote local residents' understanding of our measures for preventing mining-induced pollution at our abandoned mines, we proactively hold sessions to explain countermeasure work and offer facility tours. We also strive to contribute to local communities through tree-planting and the release of juvenile fish as environmental activities, as well as participation in and cosponsoring of local events and festivals. In addition, we accept inspection tours of our mining facilities by students and researchers from Japan and overseas. We thus offer our facilities as locations for research and development and skills training related to the prevention of mining-induced pollution.