Preserving Biodiversity
The preservation of biodiversity is an element that forms the basis of our approach to business. We clarify this point both internally and externally by stating, "We will be more considerate of biodiversity and work to live in the harmony with nature", in the Article 5 of our Code of Conduct. In addition, in our Environmental Policy we state, "We recognize that biodiversity is one of the cornerstones of a sustainable society, not least in terms of natural resource development, and will ensure that our business activities remain in harmony with society and the natural environment, taking ecosystems into consideration every step of the way."
In our business activities, the impact on biodiversity is particularly likely from overseas mines from which we procure raw materials. At the copper mines in which we have invested and are our important suppliers (Copper Mountain Mine in Canada, Escondida Mine in Chile, Los Pelambres Mine in Chile and Mantovelde in Chile), an Environmental Impact Assessment was appropriately conducted before the mining operations commenced and environmental monitoring has continued ever since. In ongoing copper mine development projects (at Zafranal in Peru and Namosi in Fiji), we are carrying out environmental baseline studies for Environmental Impact Assessment and collecting data for preserving diversity. As an investor, we confirm with operators of the mines that these initiatives will be taken, and encourage them to take such initiatives. In addition, when we procure materials from a mine in which we do not invest, we confirm that considerations are given to natural protected areas and biodiversity is preserved, in accordance with the CSR Procurement Standards of Metals Company.
We also take initiatives to preserve biodiversity at our manufacturing facilities by considering the characteristics of each site. For example, at Naoshima Smelter & Refinery (Naoshima Town, Kagawa County, Kagawa), we have been engaged in Material-no Mori (Materials Forest) tree-planting activities in districts where trees were lost due to wildfires. At such sites, we also create biotopes, grow sunflowers, and use their seeds as part of the Wanosato Project, which is aimed at environmental education and learning. Naoshima Smelter & Refinery ensures thorough treatment of exhaust gas and effluent from the facility under its own standards, which are stricter than government standards, in its efforts to protect the natural environment of Setouchi.
We own 14,000ha of forest across Japan and manage it by considering the habitats of the plants and animals that live there. We carry out wildlife monitoring and include rare species confirmed to be living in the areas on our red list. Our nine forests in Hokkaido have obtained certifications for sustainable forest management with consideration for biodiversity.
We will continue to pay attention to the contact points between our business activities and biodiversity, and take action to conserve biodiversity from a broad perspective.
Participation in the 30 by 30 Alliance for Biodiversity
- We Will Make Use of Our Company-Owned Forests to Contribute to Conservation of Biodiversity -

Mitsubishi Materials Corporation has been enrolled as a participating company in the 30 by 30 Alliance for Biodiversity (hereinafter "Alliance") at the initiative of the Ministry of the Environment as of April 2022.
This Alliance is a coalition of the willing established for the achievement of the nature-positive global goal to halt and reverse biodiversity loss by 2030.
To accomplish this goal, Japan, with the aim of achieving the conservation and protection of at least 30% of the country's lands and waters by 2030 (30 by 30), has committed not only to expanding protected areas such as national parks, but also to designating as OECMs (other effective area-based conservation measures) areas other than protected areas, such as company forests, conducive to the conservation of biodiversity.
We own 14,000 ha of forest across Japan and practice forest management and control in consideration of the habitats of animals and plants living there. We also carry out wildlife monitoring and include rare species confirmed to be living in the areas on our red list. In addition, our nine forests in Hokkaido have obtained certifications for sustainable forest management with consideration for biodiversity.

Biodiversity Initiatives at Our Mine
Monitoring Water Quality at Copper Mines (Copper Mountain Mine)
We invest in Copper Mountain Mine, located in British Columbia, Canada, where we engage in corporate management with an emphasis on biodiversity. We continually monitor the quality of water in local rivers, in accordance with quality guidelines issued by the provincial government, and also carry out ongoing surveys into fish populations, in order to gauge the impact of our activities on the ecosystem. Continuous environmental monitoring has been carried out since the mine operation started, and also closure plan is established.
Surveying fish populations
Environmental Impact Assessment as part of Copper and Gold Deposit Development Project
We are carrying out a basic environmental study geared towards conducting EIA* as part of a development project in Zafranal, in southern Peru. At the same time, we are studying and analyzing the potential impact on the environment by the development, and are looking into ways to secure new habitats for species of flora and fauna if there is a risk of any impact on the ecosystem.
* Environmental Impact Assessment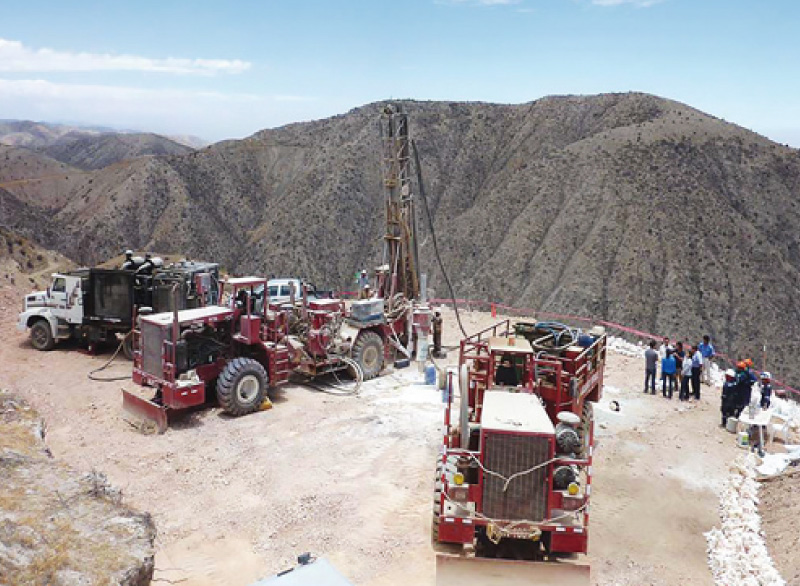 Exploration drilling
River water quality survey
Environmental Impact Assessment on Construction of Power Plants
Environmental Impact Assessment for Launch of Operations of Appi Geothermal Plant
In 2015, we established Appi Geothermal Energy Corporation in conjunction with Mitsubishi Gas Chemical Company, Inc. to the west of Appi Highlands in Hachimantai City, Iwate. We were joined by Electric Power Development Co., Ltd. in 2018, and the three companies are promoting the project towards the launch of the operation, aiming to begin operating a 14,900 kW geothermal power plant in 2024. Appi Geothermal Energy Corporation began procedures for an Environmental Impact Assessment in 2015, and studied, predicted, and assessed the impact of the construction of the Appi Geothermal Power Plant on the surrounding environment. The company received approval for the final environmental impact statement from the Minister of Economy, Trade and Industry in January 2018 and began construction of the plant in August 2019.
Voluntary Assessment of the New Komatagawa Hydroelectric Power Plant
We own a hydroelectric power plant immediately below the Moriyoshi Dam in the Komata River, a branch stream of the Ani River in the reservoirs along the Yoneshiro River in Kita-Akita City, Akita. In May 2019, we began construction on the New Komatagawa Hydroelectric Power Plant (rated output: 10,326 kW), a hydroelectric power plant that will use the discharged water which was used for power generation at the existing plant. When planning the construction of the new power plant, we undertook a voluntary environmental assessment to determine the impact on the surrounding environment. We are also creating a new plan to ensure that the flow rate of surplus from the new plant will be appropriate for the river to preserve the surrounding river environment. In addition, we will carry out eco-friendly construction work. We will use power generated in the existing hydroelectric power plant, a renewable energy, for construction work on the headrace tunnel with TMB method. We will also recycle trees that were felled to construct the new power plant.
Biodiversity Conservation Activities of PT Smelting (Indonesia)
Activities for Protecting Rare Animals
To further develop its activities for environmental protection and biodiversity preservation, PT Smelting has been co-sponsoring a program for protecting rare animals by Taman Safari Indonesia since 2018.
In this program, endangered species designated by the International Union for Conservation of Nature (IUCN) are bred and released into the wild to enhance sustainability. PT Smelting participates in a program to protect Javan hawk-eagles. The Javan hawk-eagle is the national bird of Indonesia because it has the same characteristics as Garuda, the divine bird in the national emblem of Indonesia (Garuda Pancasila). However, recently there is concern over the decrease in the population of this species due to the destruction of rainforests as well as poaching. Through this program, the company not only aims to breed Javan hawk-eagles as a national symbol but also to support the education of children as future leaders and biological research on the birds, thereby contributing to preserving biodiversity.
Javan hawk-eagle
Photo provided by Taman Safari Indonesia